President Elect Obama and Mayor Adrian Fenty stopped by D.C's most famous black-owned restaurant, Ben's Chili Bowl, this weekend to sample the goods.
Ben's Chili Bowl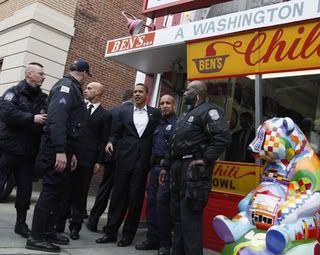 (If I was inside eating, and saw all this going on outside, I'd be lookin around like "Who here was on
America's Most Wanted
..??")
Look at the dude on the left!
This lady obviously had more important things to attend to.
Mama?
And finally - the sweet, sweet reward. Only a true man of the people can put away a chili dog like that.
*pics courtesy of theybf.com*