A clothing line for "all the Boss bitches dipped in the sauce" Dimepiece is sassy, well made, and timely. Dropped in the summer of 07 by like-minded creative thinkers Ashley Jones and Laura Fama DMPC has been steadily climbing the streetwear ranks ever since. Their designs are not intended for the faint of heart - if you're going to wear it they prefer you flaunt it with geniune swagger. No pretenders or closet wallflowers need apply.
Drip Logo
Original Logo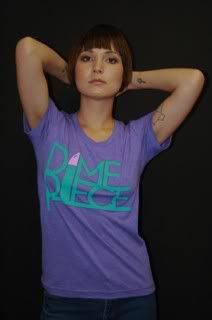 NYC Leggings
Scrabble Leggings - Wht, also avail in Blk
Come check out more of the collection at our opening December 6th.
pics courtesy of DMPC, cultistshop.com and nitrolicious.com