Hellz Bellz: A Crime for All Seasons was founded in 2005 by Lanie Alabanza and they've been testing the notion of what girls oughta be like ever since. Inspired by the rebelliousness of females today, and the badass sassiness of the heroines that came before, their pieces combine streetwise feminity with consistant themes like questioning authority and challenging society.
Here's a sampling of what you can expect to see in-stock come December 6th...
The "Hard Knocks" Jacket
The "Cultural Vandal Hoodie" Red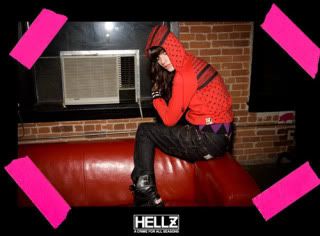 The "Bandit" Top
The "Not Your Bitch" Cardigan - Blk
If a frilly pink dress is a kiss on the cheek then Hellz Bellz is a punch in the mouth - and we wouldn't have it any other way.
Pics courtesy of hellz-bellz.com